---
PhD Career Workshops & Panels
Online career panels to help you explore your options • Live online workshops to learn PhD job search strategies • Purchase a Non-Member Ticket to attend live + 7 day replay
Members attend workshops and career panels for free. Not a member yet? Learn more about the benefits of joining Beyond the Professoriate.
---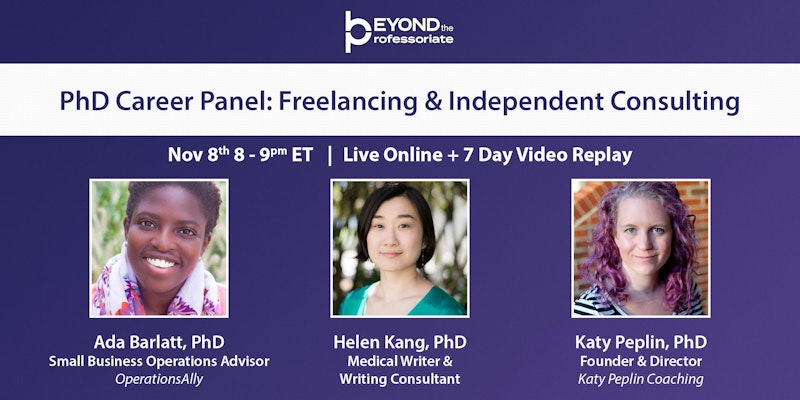 Hear from three PhDs who now work as freelancers and independent consultants. Learn how they managed their career transitions after graduate school, about what their jobs entail, and get advice about how to move into this field.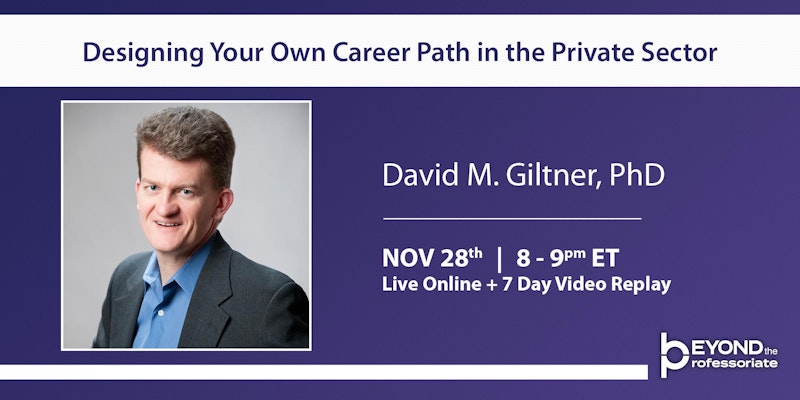 The career path to become a professor is pretty straightforward. Planning a move out into the private sector reveals a world of so many possibilities that it can seem can seem daunting. Some thoughtful planning can give you a great start. Join author, speaker, and career coach David M. Giltner, PhD to learn about how to create a career path for yourself!
Additional Upcoming PhD Career Workshops & Panels
PhD Career Panel: Student Affairs
Tuesday, December 5, 2017 from 8:00 PM to 9:00 PM (EST)
Transitioning to Government Work in Canada
Wednesday, December 13, 2017 from 8:00 PM to 9:00 PM (EST)
---
Research & Innovation Series
All presentations in the Research & Innovation Series are Free with unlimited replay options. To attend live or to access the replay, register in advance. Registration closes 1 hour before the live event.
The Research & Innovation Series is designed for faculty members and graduate administrators, as well as PhDs and graduate students, interested in the most-up-to date research on PhD career pathways, as well as best practices in preparing PhDs for non-faculty careers.
Using Evidence to Make Academia More Transparent to Early Career Scientists
Thursday, November 2, 2017 from 12:00 PM to 1:00 PM (EDT)
Building ImaginePhD
Thursday, November 16, 2017 from 12:00 PM to 1:00 PM (EDT)
Preparing Future Professionals: A Career Development Course to Enhance Work Readiness
Thursday, November 30, 2017 from 12:00 PM to 1:00 PM (EDT)
---
FREE Job Search Strategy Sessions with Maren & Jen
Join Co-Founders Maren & Jen for live Job Search Strategy Sessions.
REGISTRATION CLOSES 1 HR BEFORE THE EVENT
Hosted via Zoom Webinar & broadcast on Facebook Live | 12 - 12:30pm ET